Consumer Action asks insurance companies to show Australians some love – Media Release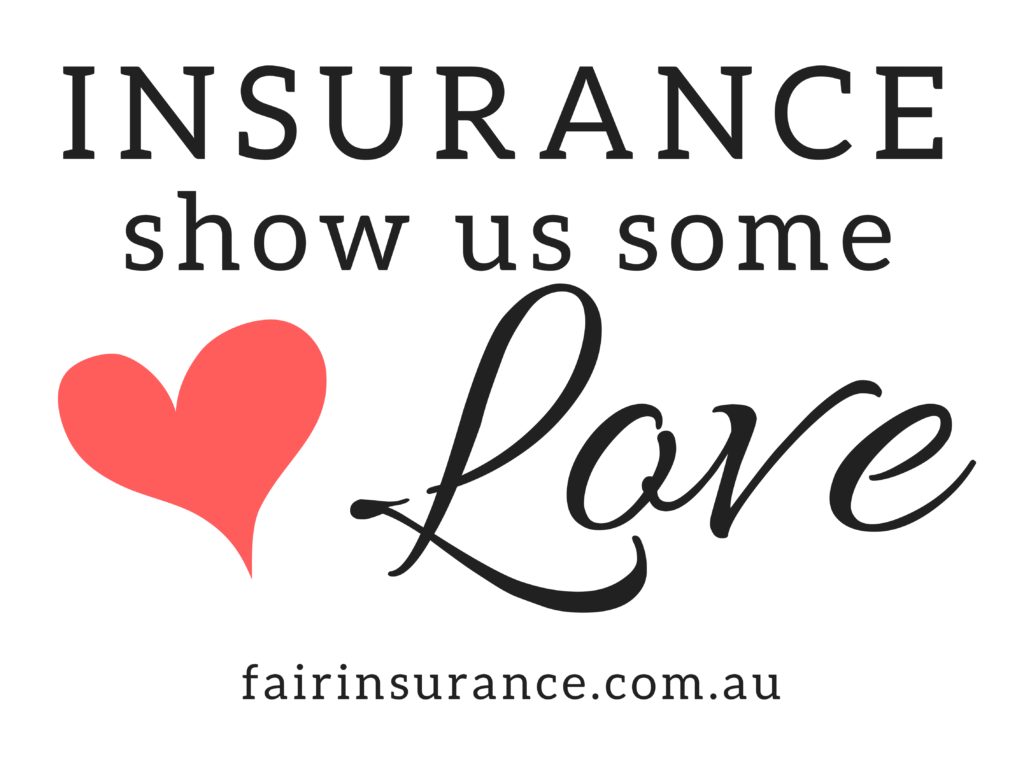 High res images available for media use:
Image 1 – Image 2 – Image 3 – Image 4 – Image 5 – Image 6 – Image 7 – Image 8 – Image 9 – Image 10 – Image 11
Consumer Action's 'DENIED' Report is available for download here.
As Consumer Action Law Centre asks insurance companies to "Show Us Some Love", a new report from the Centre shares the shocking stories of Australians caught out by unfair terms in insurance contracts.
The report DENIED: Levelling the playing field to make insurance fair details people's shocking experiences with insurance claims and shows why an unfair contract terms regime is needed for all types of insurance.
"Insurance companies have a bad reputation, but we think their hearts are in the right place" says Gerard Brody, CEO of Consumer Action Law Centre.
"So today, for Valentine's Day, we're reaching out to the CEOs of all the major insurance companies to show us some love."
Along with the 'DENIED' report, the Centre has launched the 'Show Us Some Love' (fairinsurance.consumeraction.org.au) campaign to encourage the industry to make their contracts fair. Flowers, candy and fluffy toys are arriving at CEOs desks to encourage some love from the industry towards its customers. The Centre has also released an 80s style dating video for a bit of a laugh.
Humour aside, the problem lies with "Unfair Contract Terms" laws, from which insurance companies currently have an exemption. Positively, the Federal Government wants to include insurance in these laws, but Consumer Action says the industry could, and should, act now.
"Many people lose out on their insurance because of unfair contract terms. And insurers are facing a big trust problem with Australians. People are getting huge shocks when their insurance claims are denied and yet insurers are the only industry who can legally include unfair contract terms in their contracts. Insurers should apply a fairness test to all terms in their contracts now," says Brody.
"Every other industry must ensure that their terms and conditions protect legitimate business interests only, and that their own customers can understand the contracts. There's no reason insurers should get special treatment."
The 'DENIED' report is available for download here [PDF] and the campaign website and video is available at fairinsurance.consumeraction.org.au
Editor's notes:
Unfair contract terms in insurance – how it has unfolded
| | |
| --- | --- |
| May 2010 | Senate Economics Committee recommends that unfair contract term protections be extended to insurance contracts |
| November 2011 | The Natural Disaster Insurance Review recommends that unfair contract term protections be extended to insurance contracts |
| February 2012 | House of Representatives Standing Committee on Social Policy and Legal Affairs recommends that unfair contract term protections be extended to insurance contracts |
| March 2013 | Productivity Commission states its support for unfair contract terms to be extended to insurance contracts (Barriers to Effective Climate Change Adaptation Report) |
| June 2013 | The then-Government's Bill to introduce an unfair contract terms regime for general insurance is introduced to Parliament. The Bill lapses when the Parliament is dissolved. |
| November 2016 | The Senate refers an inquiry into Australia's general insurance industry to the Senate Economics References Committee. |
| August 2017 | The Senate Economics References Committee releases its report 'Australia's general insurance industry: Sapping consumers of the will to compare'. The report recommends unfair contract terms laws for insurance. |
| November 2017 | The Financial Services Royal Commission is announced. It will take a close look at the banking, superannuation and insurance industries' practices over the past decade. |
| December 2017 | The Government responds to the Senate Committee report, announcing it will extend unfair contract terms laws to insurance. |