Credit reporting – getting a free copy of your credit report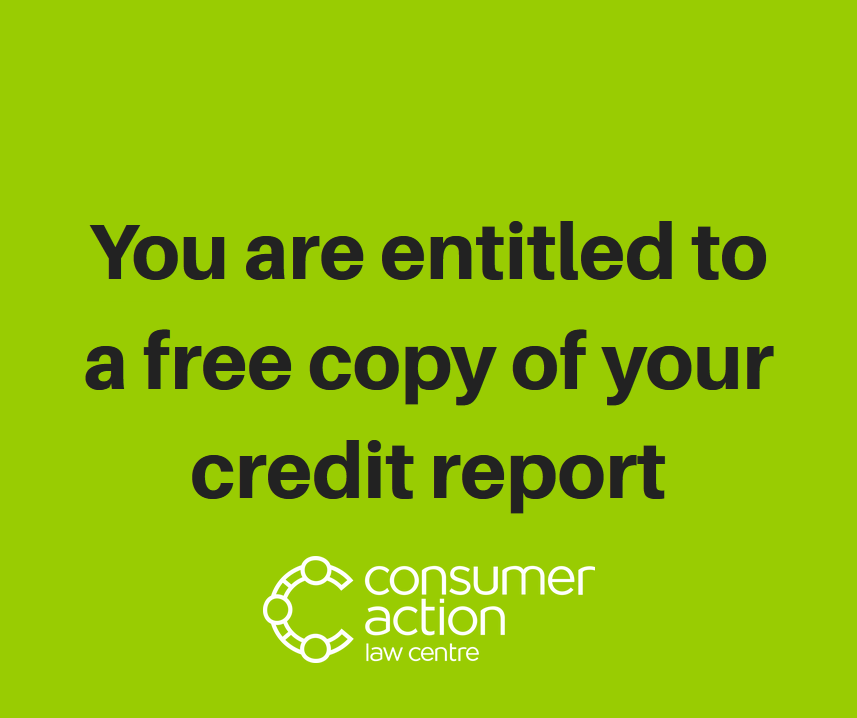 [box type="note" icon="none"]
Key message
You are entitled to a free copy of your credit report.
Where is my credit report?
Credit reports are created and held by private companies called credit-reporting bodies. There are three consumer credit-reporting bodies in Victoria:
Veda Advantage (previously known as Baycorp Advantage)
Dun & Bradstreet, and
Experian Credit Services Australia.
The Privacy Act 1988 (Cth) and the Credit Reporting Privacy Code regulate what type of information can be kept by credit reporting bodies, how long it can be kept for and who can access the information.
The Office of the Australian Information Commissioner has responsibility for ensuring that the Privacy Act and the Credit Reporting Privacy Code are followed.
Can I get a free copy of my credit report?
You can obtain a free copy of your credit report from each of the credit-reporting bodies every 12 months. The law states that you should receive your report within 10 days.
You may be charged a fee if you have already obtained a report from the same credit-reporting body in the last 12 months. You can also be charged if you ask for your report sooner than 10 working days. If you are charged a fee, it must not be excessive.
You can also apply for a free copy of your credit report within 90 days of being refused credit by a credit provider.
How do I get a copy of my credit report?
All the credit reporting bodies require you to complete a form or make a written request. They will ask you for identifying information, which might include:
Your full name
Your date of birth
Your driver's licence number
Copies of identification (like a driver's licence, birth certificate or Proof of Age card, as well as an official document with your name and address (i.e. rates notice, utility bill or bank statement))
Your current and previous address
Your current employer or previous employer
Name of the organisation to which you last applied for credit
A daytime telephone number
Veda Advantage
Download the Veda application form at www.mycreditfile.com.au, or write a letter with the identifying information set out above. Send the letter or form to: Veda Advantage, PO Box 964, North Sydney, NSW 2059
or fax: (02) 9951 7880
Indicate if you would like your file sent to you by post, fax or email.
Dun & Bradstreet
Complete an online form titled "Application for personal credit report" at https://www.checkyourcredit.com.au, and tick the box marked 'standard service',Or, telephone Dun & Bradstreet on 13 23 33 and request an application form. Once you have completed the application form you can send it to: Dun & Bradstreet, Public Access Centre, PO Box 7405, St Kilda Road VIC 3004.
Experian Credit Services Australia
Confirm what identification you need to provide from www.experian.com.au, and send these to: creditreport@au.experian.com or Experian Australia Credit Services, GPO Box 1969, North Sydney NSW 2060
Warning
If you request your credit report, your current contact details will then become available to any lenders, creditors or debt collectors who check your report.
What if my credit report is incorrect?
If the information is not correct, ask the credit reporting body to correct it. For further information on disputing the contents of a credit report, refer to Consumer Action's Factsheet 'How Do I Change My Credit Report?'
Further information
Consumer Action Law Centre
Telephone: (03) 9629 6300,
or 1800 466 477.
Email: advice@consumeraction.org.au
If you are deaf or have a hearing or speech impairment, you can  call through the National Relay Service (NRS):
TTY users can phone 133677 then ask for 1800 466 477
Speak & Listen (speech-to-speech) users can phone 1300 555 727 then ask for 1800 466 477
Internet relay users can connect to NRS on www.relayservice.com.au then ask for 1800 466 477
Financial Ombudsman Service
Tel: 1300 78 08 08
http://fos.org.au/centric/home_page.jsp
Office of the Australian Information Commissioner (OAIC)
Ph: 1300 363 992
www.oaic.gov.au
You can download a PDF version of this fact sheet on getting a free copy of your credit report
Warning: This fact sheet is intended as a guide to the law and should not be used as a substitute for legal advice.  This information applies only in Victoria and reflects the law as at 31 December 2015.