Tricky terms in electricity and gas contracts to be abolished
Victorian energy users are set to benefit from more clarity and fairness when it comes to their energy bills. This comes as a result of the Essential Services Commission (ESC) draft decision on Recommendation 4 of the bipartisan Independent Review of the Electricity & Gas Retail Markets in Victoria (The Thwaites review).
 Every day financial counsellors at Consumer Action Law Centre's (Consumer Action) National Debt Helpline service assist people struggling to pay their electricity and gas bills. Debts are made worse by contracts which allow price jumps, unfair default rates and confusing 'discounts' that are really just excessive penalties in disguise.
Consumer Action CEO Gerard Brody commended the ESC on its draft decision. "These changes will deliver significant protections against rip offs for Victorians."
"Energy retailers should not be making excessive profits from people who only pay a day late," said Brody. "Our centre has seen atrocious cases, in one instance we heard from a person who was already struggling to make ends meet yet was charged over $500 extra for their winter bill."
The draft decision will tackle bad practices by:
Providing pricing certainty for most contracts, by ensuring retailers cannot change energy prices unless the Victorian Default Offer is adjusted (which usually only happens once a year[1]
Banning contracts where discounts or other financial benefits expire before the contracts end;
Capping the extra amounts that people pay when they are late. This will be capped at a reasonable cost that is independently determined by the ESC; and
Making sure that people default to the best offer available for gas or to the Victorian Default Offer for electricity, when their contract expires.
The ESC's recent Victorian Energy Market Report  revealed that over 60 per cent of Victorian households are currently on contracts with pay-on-time discounts in the last financial year and that they were for not meeting their contractual conditions.  Brody said that the ESC should make sure these rules don't just apply to new energy contracts. "The new rules should protect all households whether they sign up to an energy offer in two years' time or if they signed up three years ago."
Brody also encouraged the Victorian Government to give the ESC the tools to deliver better outcomes for people using gas as recommended by the Thwaites review. "Since the Victorian Default Offer was introduced in July 2019, well over 100,000 households have been protected from paying more than $200 extra a year on average for electricity and it is time to introduce the same protections for gas."
"Gas rates are more complex and prices have been on the rise. The Government has the power to implement a regulated price protection for gas and should do so to stop us from being ripped off."
[1] The draft decision still allows some non-traditional contracts, such as those that track wholesale prices or respond to critical peak pricing. While innovative arrangements can benefit some consumers, Consumer Action will respond to the draft decision urging these arrangements to be fair for consumers.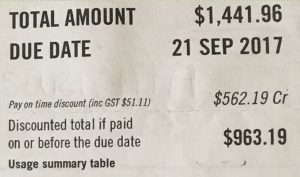 The energy bill of a Consumer Action client with a pay on time 'discount' 
END
MEDIA CONTACT: 0413 299 567, media@consumeraction.org.au