Do Not Knock—stopping unwanted door-to-door salespeople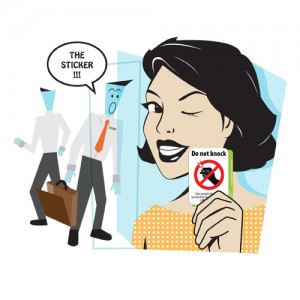 Door-to-door salespeople often use high-pressure tactics to get people to buy products they don't want, don't need, and can't afford. We've heard of cases where people have been deliberately misled, and even unwittingly signed up to high cost financing to pay for the product.
For many Australians, particularly the elderly and people living on their own, being visited by salespeople can be an unnerving experience. For others, having valuable time at home with family and friends interrupted by pushy salespeople is simply an unwelcome distraction. But help is at hand.
We're distributing Do Not Knock stickers which, when displayed in a prominent location, sends a clear message salespeople—'you're not welcome here.' The Do Not Knock sticker will not only significantly reduce the inconvenience of having people bother you at home, but it will help stop some of the poor sales techniques used in this form of selling.
We also understand that some unscrupulous salespeople will target new Australians or people with limited English, signing them up for contracts without fully explaining the details, costs and cooling-off rights.
More information on the Do Not Knock campaign, including information on your legal rights and how to make a complaint is available at www.donotknock.org.au.
Reports, submission and media releases on this campaign are available here.