How to make a complaint – step-by-step guide
What do I need to start?
It's best to have your insurance or warranty documents with you when you complete the letter. If you don't have them, see below for tips for requesting these documents.
It might not be in your interests to seek a refund if you want to keep the policy for any reason, for example if you intend to make a claim.
Step one – Write a letter or email
Use the template letters here to help you:
Add as much detail as you can and delete anything that does not apply to you.
Consumer Credit Insurance – template letter
Gap Insurance – template letter
Have a look at the letter, and make sure everything it says is correct. You will be able to make any changes you like.
Step two – Send it!
Send the letter to the insurer. You can do this by post or email. You can check their address or email address on the Australian Financial Complaints Authority site here
It is important to get the name of the insurer right. It should be listed on your policy documents. Here is a list of some of the common products and the insurers: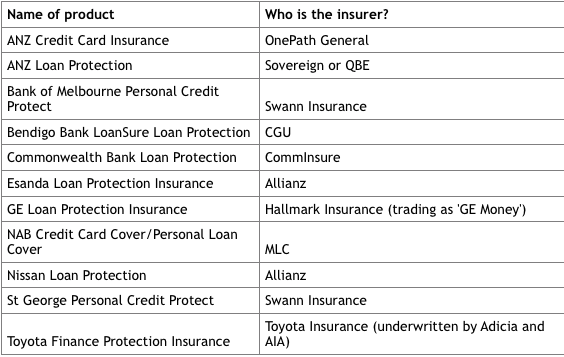 It is important to check your own documents because the name might differ from this. You could even call up your insurer or that business that sold you the insurance if you are unsure.
You can also complain to other businesses involved
For example, you can complain to the business that sold you the product eg the finance company or car dealer. But don't forget that you cannot double dip. If you have requested refunds from two or more businesses and receive a refund from one business, you have to let the other one(s) know as soon as possible.
How do I get my paperwork?
Check the documents you have at home
If you can't find them, ask!
If you know the name of the insurer, you could ask them directly for all documents relating to your policy.
Alternatively, you can ask the bank or finance company. Click here to have a look at information on the Consumer Action Law Centre website about help you seek your loan documents. There is a template letter to help you as well.
If you don't hear from them, don't forget to remind them about your request! You might want to set yourself a reminder in your calendar or phone so you don't forget.
For help with what to do after you have submitted the complaint, have a look at our fact sheet 'What next?'.
This fact sheet is for information purposes only and should not be relied upon as legal advice. This was updated on December 14, 2015.